---
NW 250



---
NortheK offers its Newtonian telescope NortheK NW 250 in two different options.
The first option is the NortheK NW 250 DS , suitable for Deep Sky observations, for both astro-photographic and visual use. The second is the NortheK NW 250 HR suitable for high-resolution work, again for both photo and visual.
The DS option,  with its fast focal ratio (f 4,4), is designed to work  with a coma corrector  and, in particular, it has been optimized to work with an mpcc from Baader which avoids the focal lenght increase and will give a further 10 mm. of focus extraction. This corrector is also optimized to work with f 4.5 telescopes therefore it works at its best with our f 4,4.
This is a high quality engineered instrument. We didn't compromise on quality or adopt any cheaper solutions because our priority has been optical and mechanical performance.
An instrument for the discriminating observer!
Description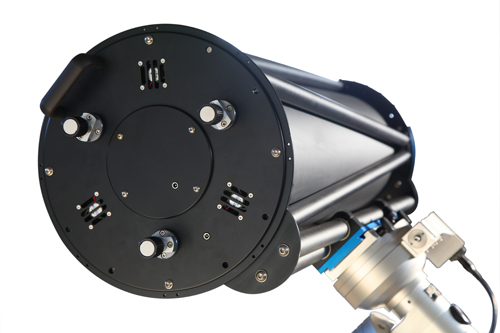 The NortheK NW 250  is a classical Newton reflector telescope (parabolic primary, and flat secondary).

The decision to design a high level Newtonian today doesn't certainly meet to market needs as the wide offer of low level satisfies the requirements of most users. However, Maxproject Team  wanted to reconfirm that there is no need to compromise on the quality, not even for a classic and rather easy scheme telescopes.

As all the others "250" from NortheK, this project assures the same accuracy in optic and engineering. UnitorK, StabilobloK and AxyS are the three mechanical components allowing this telescope to work with no compromises. The highly favourable focal ration (f 4,4) allows the amateur astronomer to carry it quite easily and to use not too expensive mounts.

Upon request NortheK can adapt the secondary mirrors for different obstructions but these neeeds to be desigend and calculated to requirements.

The replacement of the secondary allows switching from a construction designed for wide objects to one devoted to the observation of planets. In this way all the needs of a modern amateurs astronomer can be fullfilled: quality, small dimensions, easy  use, and low weight.

The NortheK NW 250 can be considered the ultimate instrument for the amateur astronomer looking for something easy to use even in difficult observation sites. The diameter is ideal in the amateur field and it is not particularly affected by the negative seeing, it also allows very high quality photographic shots and in the deep sky field it permits the use of light and easy mounts,

Original Feather Touch focusing. It is not possible to install Robofocus.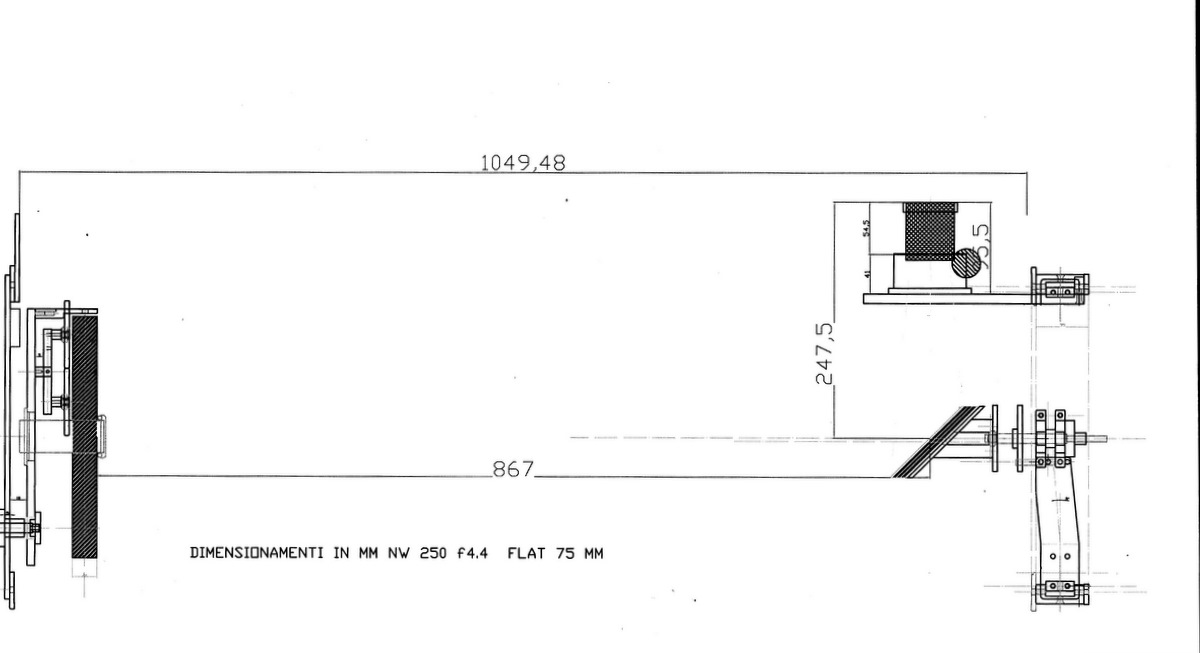 | | |
| --- | --- |
| OPTICAL FEATURES | |
| Optical scheme | Classical Newton |
| Nominal optical aperture | 254 mm. |
| Actual optical aperture | 250 mm. |
| Focal ratio | f 4,4 |
| Effective focal length | 1120 mm. |
| Thickness of primary glass | 25 mm. |
| Glass of primary and secondary | Suprax Schott Germany |
| Reflective coating type | Quartzed aluminium SiO2 |
| Optical surface correction | diffraction limited |
| Strehl ratio | 0,96 |
| Average reflection | 94% |
| Primary diaphragmation | 4 mm. |
| Minor axis diameter of the secondary | XX mm. (DS) 75 mm. (HR) |
| Actual obstruction | XX % (DS)  32 % (HR) |
| Diameter of the 100% illuminated field | XX mm. (DS) XX mm. (HR) |
| MECHANICAL FEATURES | |
| Maximum diameter of the tool/instrument | 360 mm. |
| Internal diameter of the carbon tube | 280 mm. |
| Maximum lenght of the tube, without accessories | 1100 mm. |
| Maximum weight without accessories | kg. 18 |
| Cell holding the primary | NortheK StabilobloK |
| Structure of the whole tube | NortheK UnitorK |
| Swallow-tailed holder and plate | Upon request |
| Outer protection | Hard anodization, colour black |
| Nuts and bolts | Stainless steel, Ergal |
| Optic cap | aluminium |
| STANDARD SUPPLY | |
| Standard searcher | 8×50 achromatic |
| Focus | Feather Touch FTF 2000 2″ |
| Tool box | included |
| Maintenance manual | included |
| Optic cap | included |
| OPTION AND ACCESSORIES | |
| Carbon joints to add accessories | upon request |
The exact optical parameters such as back focus, distance between primary and secondary, dimensions of glasses, are confirmed exactly in the optical certificate provided with each optic and/or instrument.
Important notice: the secondary mirror setting (minor axis) is made according to the customer's requirements and it will depend on the sensor used if the telescope is meant to be user for photographic application or on the fully illuminated field in the case of visual use. The customer could then go from one setting to the other by simply buying the alternative secondary.
| | |
| --- | --- |
| Product code: OTA 250 NW – OTA 250 NWN | Sale unit: piece |
We also recommend:
| | | |
| --- | --- | --- |
| Code | Description | Notes |
| EA20 | 31,8 reducer for F.T. series 2000 | essential to reduce the focusing from 51,8 to 31,8 |
| R20-1,40 | 1,40″ extension FT series 2000 | essential when using the eyepiece observation |
Product traceability and security codes: every NortheK O.T.A. has its identification number stamped in a specific and fixed position and it contains all production data and the relevant code of the customer who bought it. This number guarantees the product is Made in Italy, its traceability and the origin of the source project. The stamp is laser marked and cripted.
Obstruction: a difficult compromise and some misunderstandings.
It is not easy to design a "universal" instrument for the modern amateur astronomer.
We offer a choice of two secondary mirrors, one more suitable for hi-res or planetary applications, another one for wide field observation. The obstruction ratio is still a bit high but well lower than many other commercial instruments. The reason for our choice is twofold:
a) theoretically it would be possible to considerably reduce the obstruction (down to 18-19% for instance) but this will provide few advantages in the performance and a lot of practical disadvantages, such as loss of versatility of the instrument, problems with back-focus and the requirement of some additional accessories.
b) a very small obstruction means precluding or crippling the use of the instrument for other applications other than planetary and hi-res. If this is the case, it might be better to simply go for a Cassegrain or a Dall-Kirkham, which will perform better in such instances.
The optical design and set up have been optimized to give a fully illuminated field whose size is 13 mm. for the HR version and 30 mm. for the DS version. This will provide a double advantage: plenty of back-focus and a small tube, which will deliver an OTA easy to handle and transport to your favourite dark skies or getaways.
Either version will offer you a versatile and high performance instrument; the DS version, together with a coma corrector, is more suitable for wide field photography with a DSLR.
Why should you buy a Newtonian telescope?
As you and every astronomer know, the universal telescope does not exist. Or, more precisely, what  does not actually exist is a high performance universal telescope; therefore such a product could not fit in with the no-compromise philosophy of NortheK.
The market has been offering many "all-purpose" telescopes which are good value for their price. However, as it happens, their approximate construction can sometimes give some embarassement to the user or the seller. Obviously this level of performance can fit perfectly some users' needs. NortheK is not against those instruments because, as entry-level instruments, they can introduce many new enthusiasts to the universe of astronomical observation. Then, once the passion is kindled, the user's experience and budget will suggest a choice of a high-performance instrument with fine optics, mechanics, and electronics.
Nowadays everything is highly specialized and it goes without saying that a Ritchey Chrétien will be an outstanding choice for wide-field photography but will not perform at its best on low-contrast planetary details. That's why customers need to make their choices considering their specific needs and intended applications.
Every NortheK design  has been optimized for a specific application but, if you wish, nothing is going to prevent you to enjoy our Dall-Kirkham on globulars or planetary nebulae. However, we know since the beginning that, for objects with a large angular extension, its performances will be far from optimal. It the user wishes a hi-res and long-focal instrument that allows for more versatility, a better choice would be a classical Cassegrain, whose corrected field is larger, but with the drawback of a higher price …….
Having said that, Maxproject Team has decided to put on the market a high quality classical Newtonian because we believe that it can be the right choice for many users. We are flooded by low-cost Newtonians with torsions and flexions everywhere, secondary mirrors glued to their supports, primary cells that flex  and don't allow correct mirror positioning, slanting optical "axis", heavily out-of axis focusers…..prices are economic, but quality is not precisely a "must" for this class of instrument. Again NortheK think that those offers are positive as long as they allow amateurs to widen their knowledge and experience with various instruments and different optical designs.
A NortheK NW 250 is a point of excellence for the Newtonian design in the 250 mm. diameter. With all the advantages of a Newtonian: simplicity of use and collimation, high versatility, affordable price, and – last but not least – excellent transportability thanks to its compact tube (about 1 meter). It is a telescope suitable for users who do not wish a specialized instrument because they want to enjoy various observational styles: wide-field photography (with a coma corrector), moon and planets (especially with the smaller secondary or other customized solutions that we are always happy to discuss with customers), visual deep-sky observation with good quality wide-field eyepieces.
The low weight and the short tube make the NortheK NW 250 suitable for many commercial mounts.
Why is the NortheK NW 250  primary mirror drilled?
The centre of a Newtonian primary mirror is never used by the actual light cone. Our hi-tech primary mirror cell StabilobloK, whose precise purpose is the exclusion of any external strains from the optical glass (in our case the primary mirror), has been conceived in order to take advantage of this geometrical characteristic.
In this optical scheme, and all the others for whom the StabilobloK cell has been developed, the internal cylinder has the sole function of preventing damage to the primary mirror in case of overturning, it does not apply any dangerous pressures onto the glass surface as the central structure is only lightly touching the mirror, and its dimensions are minimized. Don't worry! You may overturn your OTA but the primary mirror will keep its position and won't lose its collimation.
This solution allows the mirror to be held in place without the use of side claws leaning on the surface. Considering how difficult it is to control the distortions on the glass induced by lateral supports, this is a major improvement as it removes these three surface perturbations which would otherwise generate significant wavefront deformations on the outer rim of the mirror.
The number 25 version of the StabilobloK  cell of primary mirrors has been designed with six non-deformable high-resistance side supports (with the pressure point being arranged to coincide exactly  with the middle mass centre of the mirror – up to a tolerance of +-0,5 mm.-) and with the use of a sandwich of metal and a soft/elastic product developed to spread the forces of the adjustment screws over a larger area.
You can see how we have put our competence, technology, and careful design at your service, even in these apparently small details.