StabilobloK 25
---
StabilobloK 25  is a highly advanced project for the primary mirror cells designed for reflectors telescopes.
Thanks to the extreme semplification, the accurate construction and the high quality of the materials used, StabilobloK from NortheK is one of the best thin glasses support system on the market.
StabilobloK  25 mounted with 2″ Feather Touch focuser
Our instruments are manufactured using low-expansion thin mirrors to minimize thermal effects during observation. We provide high-tech design for the support cell, in order to avoid distortion on the primary mirror that would compromise its correction, to allow a finely controlled setup, to obtain perfect collimation under all conditions and to hold collimation as long as possible, particularly for instruments taken under darker skies.The demands of a high-performance optical set can place a high challenge to the instrument design but also to the user who wants to make the most out of it, in terms of observation, astrophotography, photometry or whatever application the instrument allows.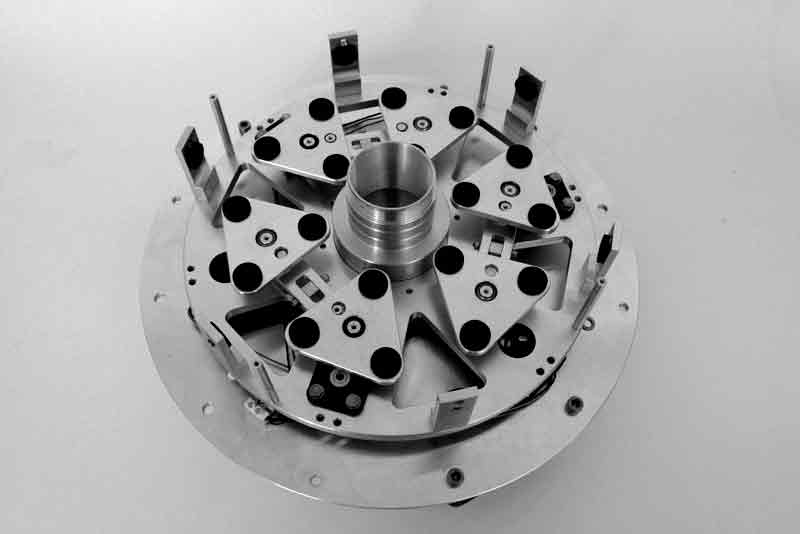 System of the StabilobloK 25 cell.
The StabilobloK system is a mechanical solution that is well designed, simple, lightweight, and precision engineered. The optical ad mechanical performances were equally considered to deliver the best results.
The StabilobloK primary mirror cells from NortheK are produced with high precision engineering with no compromise even for the small diameters (250 mm.) where the solutions are more cost effective. The use of modern technologies has allowed the Maxproject Team to achieve a superior quality and performance product at an affordable price.
Like many other components or the NortheK OTAs, the StabilobloK primary mirror cells are made from cast blanks which are then precisionly machined for purpose. This method of production assures optimal dimensional control to achieve the best results.
Our sensitive adjustement control system makes the most of the precision optics it is coupled to,  and it will take away  all your worries about mechanical induced problems, such as astigmatism. Our system allows optimal aligment of otical beam, with easy regulations, and keeps the aligment steady, eve for the astronomers that have to regularly travel to dark skies. Of course our cell is designed with "anti mirror shift" "anti mirror flop" systems, thanks to an axial and radial control system with 6 or 12 regulation points. The choice of 18 floating points as a support instead of a budget solution such as the central pipe, says it al about design criteria.
Primary's superior dish with 18 floating points
The location of the 18 floating points has been studied to avoid any deformation of the optical surface. With normal software it is easy to calculate the value of such deformations. The vertex of each triangle is designed to work with 50 gr. pressure, we test each vertex one by one with an electronic tester during manufacture to make sure they are operational at 35 gr. pressure. This system guarantees a very high sensivity  of the pivoting system. Every floating joint (BWK system) is also tested under stressful conditions for several hours in order to increase its performance without changing the optimum mechanical values. There are no others mass produced for the amateur market with  the same mechanical accuracy at similar costs.
The optical alignment is carried out at the optical bench in our factory, to ensure the customer receive a system that is ready for the fine adjustements at the star test. Every StabilobloK cell has three aluminum and stainless steel transaxial systems with an inner microreducer. The precision of these systems is 0,02 mm. in the rotation direction, so that  even the pivot of the visual plane can be finely adjusted to a very small angular degree. The action pivots are made in precisionally ground stainless steel and move inside inserted technopolymer moulded self-lubrificating bushes. This is an ideal mechanical solution to enable operation in adverse conditions, and it allows smoother and fine adjustments of the optical plan without introducing any distortion. If required by the optical scheme, we can supply baffles, whose dimensions are calculated with specialist software, and diaphragms adapted to the light cone. The baffles can be made either in metal alloy or carbon fibre.
Every single cell is tested and tried out in assembly room. You can buy it separately from the telescope and in this case we will provide any modifications necessary to optimally couple, it to its partner mirror. We developed a unified cell designed that can be modified according to the final application, this is a cost effective solution permitting maximum industrial and logistic flexibility.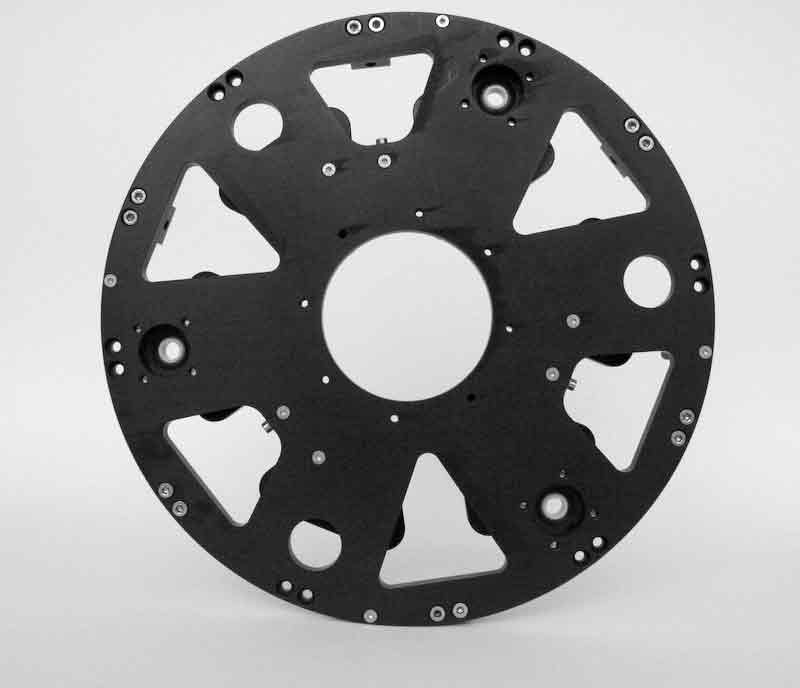 Rear of the primary's dish mounting with screws
With the same attention to detail in both development and manufacture, we can customize cells up to 800 mm. and beyond, using the best alloys for the design to guarantee the best performance of the optical train.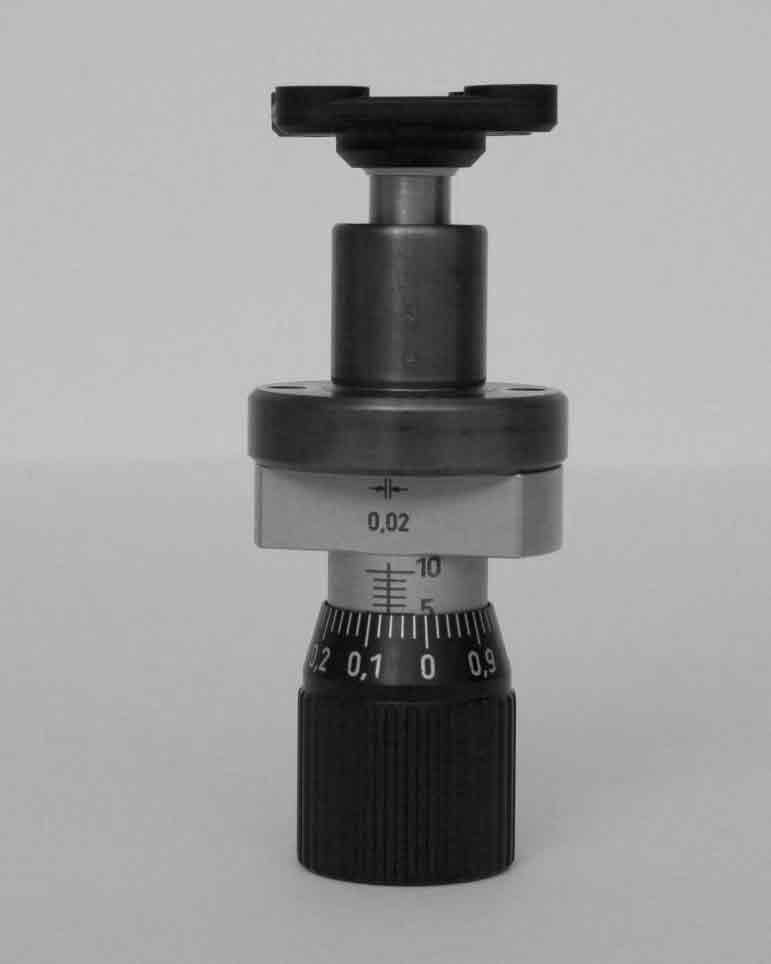 Micrometer with 0,02 mm. accuracy for the collimation of the primary mirror
Contact us, and we will be happy to give you further information.
| | | |
| --- | --- | --- |
| Characteristics | Technical specifications | |
| NortheK | StabilobloK | ST 25 |
| Alloy | Halo 25 | |
| Metallic composition ISO | AlMg4,5n0,7 | |
| Chemical composition | Si,Mn,Fe,Cu,Ti,Mg,Cr,Zn | |
| Density (gr/cm3) | 2,66 | |
| Coefficient of thermal expansion (10-6k) | 24,2 | |
| Degree of roughness | N6 | |
| Thickness mm. | +-/0,05 | |
| Parallelism mm. | < 0,1 | |
| Planarity mm. | < 0,2 | |
| Shape stability | Optimal | |
| Protective anodization | Optimal | |
| Surface protection | Black anodization | |
| Nuts and bolts | Stainless steel, Ergal | |
| Mirror support system | | 18 floating point supported by ball joints made of steel and bronze composite |
| Lateral support system | | 6 points |
| Optical plan adjustment | Adjustment system in chrome rectified steel | 3 points of fine adjustment (0,02 mm.) per 120° |
| Vibrating damping system | On self-lubricating techno-polymer moulded joints | |
| Forced ventilation | | 3 axial extraction fans |
| Customized for different tube | | Upon request |
| Weight without optic | | kg. 2,5 |
| | | |
specifications may change without notice
| | |
| --- | --- |
| Product code: ST 25 – | Sale unit: piece |
Can StabilobloK evolve? The design of this component has been conceived to allow further updates and improvements.
We would like to remind you that every IMPORTANT technological improvement brings a very high cost increase.
The StabilobloK project can be upgraded not only from an aesthtetical point of view, it is also possible to improve the performance of both, its structure and accessories.
For instruments with fixed position and diameters between 500 and 800 mm. it is possible to  use more appropriate metallic alloys or specially made steels. The plans adjustement is made with an electronically controlled system the construction tolerances can be dropped down to 0.01 mm. and the thermal expansion can be better controlled with an accurate material selection.
The system for the thermostation of the glass is also more sophisticated, as it incorporates thermometric sensors, automatically controlled systems and refrigerating fluxes.
The lateral supporting systems are self-compensating, while the lower supporting points have an adjustable compensator (alternatively we can offer a more advanced solution with an electromechanical system PC controlled). In the AxyS A2 version the adjustment of the primary's plan can be made with linear system; in this way iy is possible to re-set the back focus as many times as you want and save all the different positions in the memory. You could modify the field of full light and the necessary extraction in accordance with the characteristics of the shooting sensor and the optical train applied along the back focus. Thermometric sensors and surface refrigerating systems provide all the information to the PC wich will optimize all the configurations.
The position of the secondary mirror, that is to say its distance from the primary, is electronically controlled and can be adjusted from the PC.
The primary and secondary baffles are machined  with special instruments from a solid bar in  order to locate the necessary diaphragms with the highest precision.
For this kind of cells we can also provide special customized focus and 4″ and 5″ diameter, they are made in steel, Ergal and Titanium, motorized and PC controlled.
We do not have a catalogue for those producs as we manufacture them on customer's request and modify them in function of the use the instrumen is conceived for.
Do not hesitate to contact: info@northek.it